Who Are We?
Lyreka.com is a community of music lovers who just love expressing their thoughts and opinions on their favorite songs.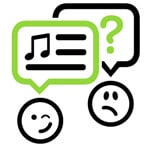 Our Purpose
To offer a platform where music lovers can discuss and interpret song lyrics in an open and social environment. Lyreka.com gives each user a personalized experience that complements his or her taste in music. We allow users to offer thoughts that may bring out the true meaning of songs.
Thanks for visiting!